Amy Carey BSc (Hons) Occupational Therapy
Aspire Therapy
Aspire Therapy is based in North Essex and covers Essex and Suffolk. I am an Independent Paediatric Occupational Therapist whose passion is to enable children to reach their full potential. I am able to provide thorough assessment and individualised therapy for your child in their home, school, nursery or, by special arrangement, in specialist sensory therapy rooms. We all learn best when we are having fun so therapy is play based and tailored to your child's preferences.
I am able to offer input in the following areas; €¢ Poor fine and gross motor co-ordination e.g. Developmental co-ordination disorder €¢ Perceptual dysfunction including visual, auditory, body senses €¢ Handwriting assessment and remediation €¢ Developmental play skills €¢ Sensory processing difficulties €¢ Development of self-care skills e.g. dressing, eating €¢ Attention/concentration difficulties €¢ Assessment for specialist postural management equipment to enable participation. €¢ Assessment for minor or major home adaptations €¢ Assessment for specialist equipment to facilitate daily care routines.
I would be very happy to discuss your child's needs via e-mail or telephone to identify how we can work together to support your child to achieve their aspirations.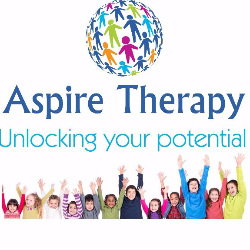 ---
Qualifications
Additional training completed covering many subjects including developmental coordination disorder, perceptual dysfunction, sensory processing, postural management, neurological conditions, specialist equipment and minor/major adaptations.
---
---
Phone: 07860 173772
Email: [email protected]
Web: www.aspireot.com
---
Address
---
Services
Advice about access, bathroom &/or kitchen adaptations or equipment Home adaptations for independent living
Practical strategies/treatment to overcome daily challenges caused by illness, accident, recent diagnosis or ageing.
Learning Disability or Autism in adults
Specialist seating/equipment for children
Neurological conditions expertise